Industry news is rarely good when it comes to newspapers and publishing. However, opportunities abound for those papers able and willing to roll with the punches. 
With so many of those opportunities knocking online — from the SaaS companies with amazing tools to the fertile ground that is digital editions — it's important that even newspaper industry stalwarts with ink in their blood and on their fingertips don't ignore the potential.
Many software tools, from circulation and classified ad management to production tools and digital enablers, are designed with newspaper publishers and their most pressing tasks in mind.
Here is an overview of all the most popular software that's fit to help print.
Newspaper CRM and Production Management Software
A generic CRM can cover many bases for many industries, but in Mirabel's Newspaper Manager, newspaper publishers have management software that's devoted to nearly every task they may encounter. 
This enterprise-level web-based CRM, currently used by more than 16,000 publications all over the world, boasts a number of newspaper-specific features and functions in its publishing platform: 
ad sales

, including a specially designed classified ad module

billing

that can accommodate the logistics of bulk-buys and other complex agreements

production

that organizes pagination all the way to final approval

reporting

to optimally monitor performance

digital marketing

integration with

Mirabel's Marketing Manager

digital publishing

integration with Mirabel's DigitalStudio

integrations

with your favorite applications, including Gmail, QuickBooks, Adobe InDesign, Microsoft Dynamics GP, and more.
Newspaper Manager costs $75 per month, per user, billed annually or monthly. Additionally, discounts are offered based on user volume.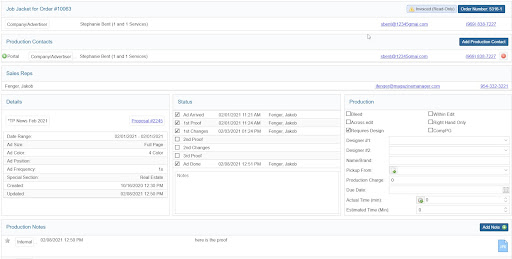 Newspaper Manager's Job Jacket interface simplifies how users can share proofs, exchange feedback, secure approvals, and even track billing.
Classified Ads Management
There are plenty of CRMs equipped to handle ad sales in general as well as ad sales in various media. And while classified ads may no longer be the lifeblood of newspapers that they once were, they're still a vital part of a paper's heart and soul … and one that deserves software uniquely designed for its demands.
A "self serve classified advertising software," iPublish Classified ably handles print ads and any sub-categories a newspaper may have. iPublish AdPortal allows for an ad product to be chosen, a design to be chosen or created, and self-management of the account and individual jobs.
Part of a larger software suite from Pre1 that also incorporates scheduling and billing, SmartPublisher makes classified ad-entry intuitive and simple. 
Its capabilities include:
Layout and rate structures

Placement requests

Multiple publication needs

Flexible scheduling

Extra charges for up-sells

Producing quotes and pre-billing
No price is listed on the Pre1 site, but SourceForge reports a $79-per-user-per-month cost.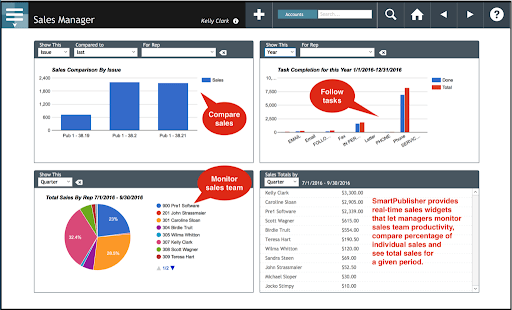 SmartPublisher
As mentioned before, Newspaper Manager's publishing CRM can, amongst many things, handle any type of display or classified ad opportunity that presents itself. It is specially designed to be there every step of the way, starting with an opportunities module and user-friendly classified templates and moving along to the real-time ad inventory manager and multimedia payment system.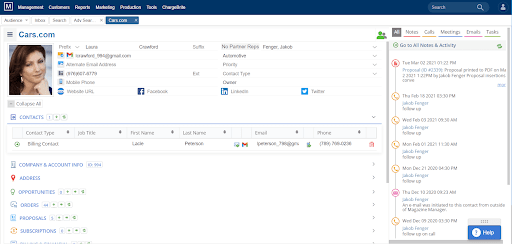 Newspaper Manager's CRM makes it easy to search and organize client data.
Digital Editions
Digital editions are becoming exceedingly vital to the newspaper industry. The Alliance for Audited Media says total digital circulation rose 27% in 2020 … and that doesn't include data from online behemoths like The New York Times, The Washington Post, and The Wall Street Journal who do not report to the AAM. 
Additionally, A 2020 survey by Reuters Institute shows 20% of U.S. news readers paying to access online newspapers. "This marked an increase of 4 percentage points from 2019, indicating that this model is slowly catching on in the US."
Newspapers can replicate their print look or create their own online publication with Edition Digital. Its Content Hub makes adding features like surveys, forms, and calls-to-action a breeze, but Edition Digital really shines with its no-coding-required tools for creating interactive, supplemental content that truly complements the publication and its stories.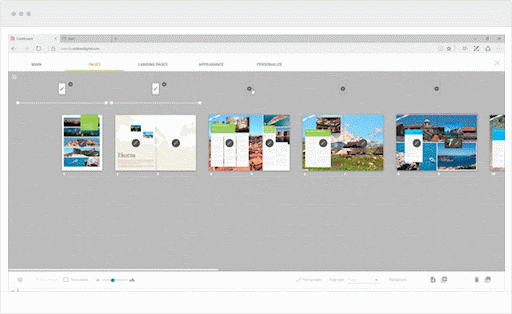 A time-lapse of Edition Digital's process
Helping publishers create digital editions since the 1900s — 1999, technically — BulletLink offers countless templates for both websites as well as iOS and Android apps. Online templates are categorized by trending, classic, and even old-style, and can be customized to ensure nothing else online looks quite like yours.
BulletLink's CMS (content management system) starts at $39 per month.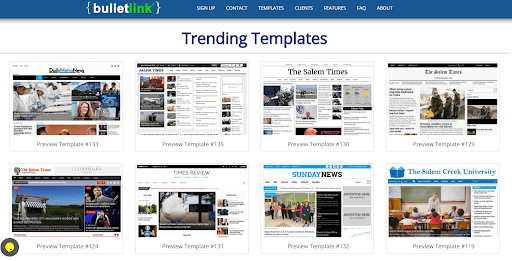 A selection of BulletLink's trending templates
Renowned for its affordability as a digital publishing platform for magazines, FlipHTML5's Flip Newspaper Maker "magnificently converts PDF newspapers and magazines into responsive page-turning publications." Along with customizable templates and an Online Editor, FlipHTML5 also offers marketing tools, self-hosting, and Google Analytics integration. 
A free version is available; paid versions include Pro ($12.50/month), Platinum ($25/month), and Enterprise ($83.50/month).
Circulation Management Software
There are a number of companies that offer circulation management products, from the competitively priced SimpleCirc to the more robust, media-designed QuickFill. But it's in the balance of those two essentials where newspapers can find their best value.
From Mirabel Technologies, ChargeBrite streamlines and automates every point in the subscription process. Additionally, its enhanced platform offers myriad billing options to take full advantage of other forms of recurring revenue, from memberships and associations to events. ChargeBrite integrates seamlessly with both Newspaper Manager and Marketing Manager for an enterprise suite unlike any other.
Audience Development and Lead Generation Software
Marketing is as important in publishing as it is in any other industry. After all, who better than publishers represents the intersection where advertisers look their best while seeking out an ideal audience? 
Automation software can help newspapers build and nurture databases to close more sales.
Considered the industry leader in lead generation, HubSpot put inbound marketing on the map. Its free Marketing Hub offers forms, landing pages, contact management, and traffic analytics. Its paid versions, running the gamut from $45 per month to $3,200 per month, bring even more robust marketing automation tools to those publishers large enough to dedicate staff members to its management.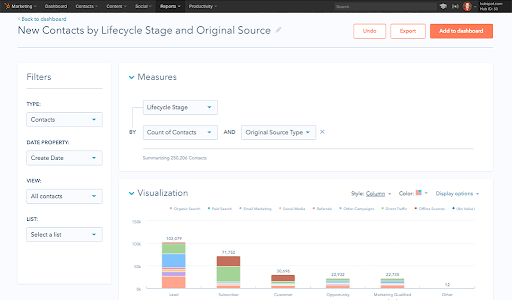 HubSpot
As a sister product to Newspaper Manager, Mirabel's Marketing Manager works hand-in-hand to offer audience development software specially designed for publishers. Its email marketing program features email list segmentation with the built-in email verification tool, Clean Your Lists; Email Builder; spam score; send time optimization and scheduling; templates; and more.
Additionally, its marketing automation tools — such as Landing Page Builder, Form Builder, and its marketing intelligence feature that runs from a 50-million-strong contact prospecting database — help with lead generation and content marketing. Powerful and affordable, Marketing Manager offers a free trial for 14 days; paid versions start at $149 per month.

Graphic Design Software
Graphic design is fairly unappreciated in newspapers, but done correctly, it seamlessly balances the needs for both a consistent look as well as fresh visuals. Thus, graphic design software must be able to enable easy-to-use templates as well as space for creativity to thrive.
Adobe's desktop publishing and typesetting software is the most popular design solution on the market, ideal for print pages and digital media. Designers can share content and fonts across projects while writers and editors easily (and safely) operate within the layout via the InCopy workflow. 
Adobe InDesign Single App is $20.99 per month, while the Creative Cloud with more than 20 other creative apps is $54.99 per month.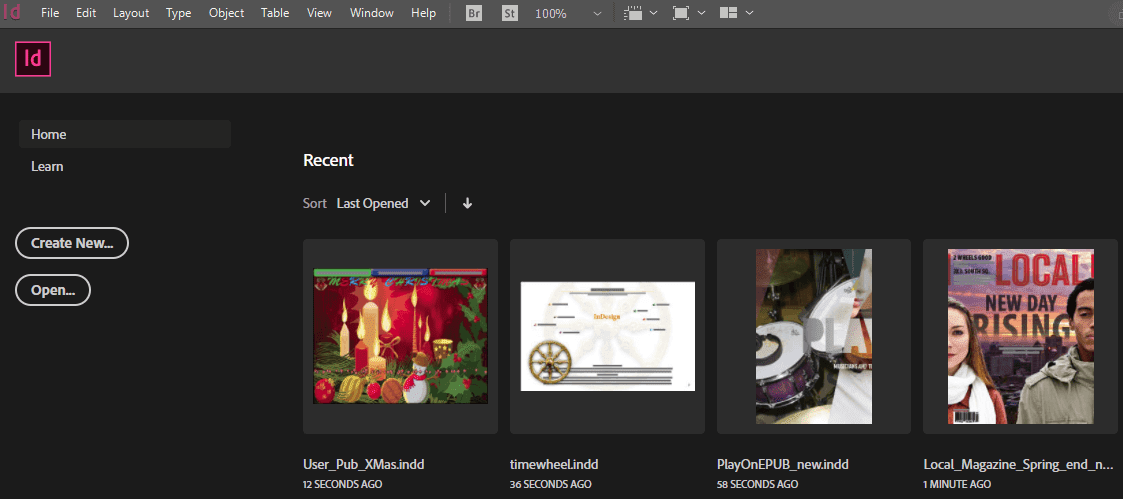 Adobe InDesign
Lucidpress prides itself on being a "brand templating solution" to help publishers create effective, consistent content. For newspapers, that means drag-and-drop layouts that makes design easy and not an overlooked afterthought. 
As Windowsreport writes, "If you decide to use this tool for creating newspapers and more, you will finally get the opportunity to say goodbye to all the hassle of using desktop layouts and design software."
While a free, pared-down version exists, the Pro or Team plans (starting as low as $10/month and $12/month, respectively) incorporate such necessary features as premium templates, unlimited document numbers and pages, and stock images and icons.
Software is Just The Starting Point
For newspaper publishers hoping that a software package can be their be-all, end-all, it's no doubt encouraging to see so many products and platforms that can promise both broad solutions and specialized tools. (We didn't even get into the hyper-specific innovations like programs which promise savings via color-correcting and other techniques to use less ink.)
Ultimately, management systems are only as rewarding as the time and effort dedicated to using them correctly and efficiently. Yes, the tried-and-true "you get out of it what you put into it" principle.
But once that commitment is made, your goals become only clearer and your results ever closer. It's a daily challenge … but who in the newspaper industry isn't up for the daily?